A patio awning cover can significantly increase your enjoyment of your home's patio space. It can protect you from harsh sunlight and UV rays, and even allow you to enjoy your patio during light rain, depending on the type of patio awning cover you purchase. A patio awning cover can also reduce the sunlight that makes its way into your home, reducing glare and potentially even reducing cooling costs in the summer.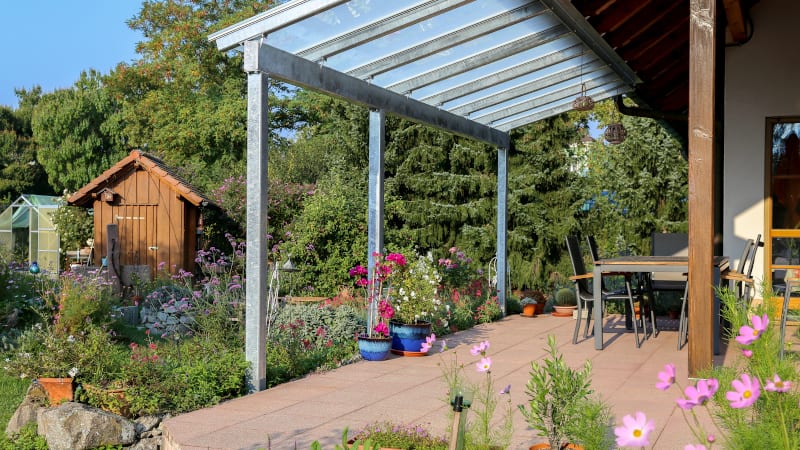 If you want to enjoy your patio awning cover for years to come, you will need a few tools to perform all the simple care and maintenance it needs for the long term:
Soft-bristled broom: Regularly removing loose debris from your awning can help keep it cleaner and looking great.
Hedge trimmer or shears: Keep any trees, vines or bushes near your awning trimmed back away from the awning. This will reduce the chances of bird droppings, sap, twigs and sticks ending up on your awning.
A garden hose: Spraying the top and bottom of your awning on a hot, sunny day is a great way to clean it. The sun will dry it again quickly.
Soft-bristled brush or cloth: At least once a season, you will want to clean your awning with more than just water. Use a mild soap and a soft-bristled brush or cloth to keep your awning looking great. Just make sure you rinse it thoroughly after cleaning. Don't forget to wipe the frame, too.
Silicone lubricant: At least once a year, silicone lubricant in the joints can help your awning move more smoothly and freely.
Regularly clean and maintain your patio awning cover. Make sure to keep it safe if winds exceed 20 mph or during rain and snow. If you have any questions, feel free to contact us at Speaks Custom Window & Sunrooms. We can install a hard roof patio awning made of metal or aluminum to protect your patio and help you enjoy your outdoor space.